Saturday, November 1, 2014
Sunday, October 26, 2014
We are featuring this beautiful, 14k gold filled
necklace
with a lovely, natural pearls in ivory color-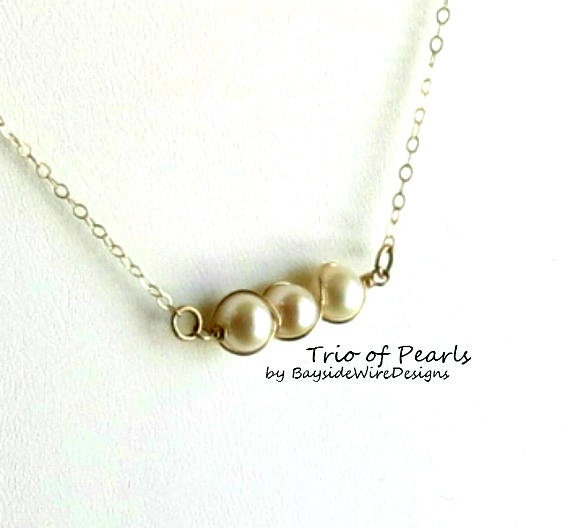 Wednesday, April 17, 2013
My
jewelry designs
are usually a bit
heavier
and so I decided to start focusing on
smaller pieces
that are more
delicate
and dainty for my customers who prefer the
smaller pieces.
This cute little
pendant
is made of recycled copper which I formed and textured, then I made small little balls from a fine silver wire and welded them to the copper. I really like how it turned out!! The bead chain compliments this perfectly!
See it here.
I also made the matching earrings. See them
here
.
Note on Fine Silver: Fine silver is 99.9 pure silver. The difference with sterling is that sterling silver is .925, which means it's an alloy (with copper- that's the reason sterling tends to oxidize quickly). Fine Silver keeps it's beautiful sheen and hardly oxidizes at all.
See more of my designs and go
here
.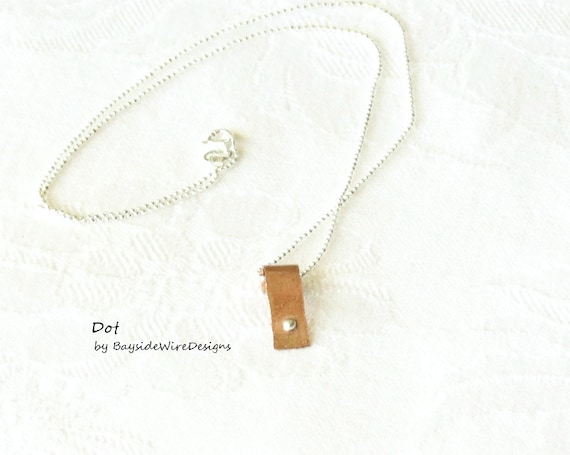 Friday, April 12, 2013
I usually make my chains by hand, link by link. The only problem I have is that it's very difficult to make small, delicate chains and so I usually don't have any dainty necklaces for the ones who prefer smaller jewelry. But this has all changed now. I've added to my collection smaller,
delicate chains
to accomodate every one of my clients... Here is the first from this collection -
Trio of Pearls
- A row of beautiful, lustrous, cultured pearls in a rich creamy-white (non dyed) color on a 14k gold filled, delicate chain with spring loaded clasp. Measures 16" long (can also be worn at 15"). If you wish a longer chain, please convo me. This beautiful necklace would make an anwsome gift for that special someone in your life! This necklace could also be a great accessory for a bride.
Go to my shoppe
here
to see more of my pieces. Use coupon code:
BLOGSAVE15
to save 15% off any purchase over $25.
Sunday, November 28, 2010
Before I begin, I just want to make it clear that I'm not a professional in the area of pearls. My passion my business is what motivated me to learn about this mysterious little gem. I thought it would be a good idea to be informed before selling my pearl jewelry. So, what did I learn?
First of all we need to talk about pearl farming.
It's kind of funny to actually say those words together: "pearl farming."
When I think of a farm, I see a big red barn with chickens running around the yard, spotted, black and white cows scattered out in the field and the sweet smell of hay mixed with manure lingering in the air. Quite a different picture with pearl farming indeed!
First of all, a pearl farm needs water.
I guess that means a waterfront farm…
I really like that!
Although both types of farming are very different in structure and content, they are both very similar in that they're a very risky and unpredictable business. Many factors such as bad weather, water pollution, excessive heat or cold and disease are only some of the problems pearl farmers are challenged with.
At this point it is important to establish the difference between the expressions: "Freshwater Pearls" and "Saltwater Pearls".
Although both are cultured, meaning that they both are grown under human influence and intervention, they demand different farming techniques.
I will try to explain each one beginning with the Freshwater Pearls.
Freshwater Pearls are formed in freshwater mollusks.
A technician will carefully remove a piece of mantle (the membrane between the two shells of a mussel), cut it into small pieces and surgically graft it to another mussels mantle.
One mollusk can accept approximately between 24-36 grafts per cycle. It's in fact a very delicate procedure.
The mollusk will then react to the irritants and begin covering them with nacre.
Nacre is a combination of crystalline and organic substances.
Day after day for many years (2-6 years), this mollusk, like a faithful little factory worker, will keep producing nacre and cover the multiple irritants until the many layers miraculously form pearls.
Talk about multi-tasking!
In their natural state, freshwater pearls vary in an array of soothing colors such as pink to mauve to gray to rich cream to peach.
You probably think I forgot to add "white".
Actually I didn't.
Mollusks never produce white pearls.
White pearls are actually the result of cream-colored pearls that have been bleached.
Are you shocked?
I was when I first learned about it.
The thing is, I never much liked the white pearls; I always preferred the cream-colored pearls and now I know why.
Because a freshwater pearl is the product of a small piece of membrane, it's very difficult to achieve a perfectly round pearl, thus freshwater pearls are rarely round.
The interesting thing, though, is that the technician does have a certain amount of control over the shape of the pearl.
It's a miracle indeed, that such a seemingly insignificant creature could produce such a beautiful gem as a pearl!
You really need to see and hold them for yourself to appreciate the cool, silky feel of pearls.
The pictures below are from my
gallery
. This handmade necklace is made with natural freshwater pearls in ivory color and the main part of the necklace is made of a beautiful Mabe Pearl (which is a whole other story). The handmade pendant below is also made with a beautiful Mabe Pearl. The luster is amazingly beautiful!